What is the weather in Dubai in December?
On average, the city of Dubai, located on the Persian Gulf in the United Arab Emirates has high air temperatures even in December. Due to the nice weather and pleasant temperatures, winter is the best season to travel to Dubai and visit the UAE. Indeed, in December you will be able to do more activities than in summer months.
Average temperature and weather in December
You don't have to worry about extremely high or low temperatures in December in UAE. The average high temperature is 26°C in December. In general, temperatures vary between 15°C and 28°C. The evenings are not cold (15°C) but we recommend you to bring a light jacket to feel comfortable while a night out.
Go swimming, do water sports or enjoy sunbathing without any problem even in December. With an average sea temperature at 25°C and low humidity, you will enjoy your sunny holiday. Indeed, the water is very hot in the Persian Gulf.
The average sea temperature is 25°C.
Humidity varies between 45% and 90%. Concerning the rainfall in December, Dubai has only two days of rain with an average of 14mm of precipitation.
Winter is not the time of the year where you will experience heavy wind or rainfall. Indeed, crazy wind and sandstorms are more likely to happen in spring and summer time.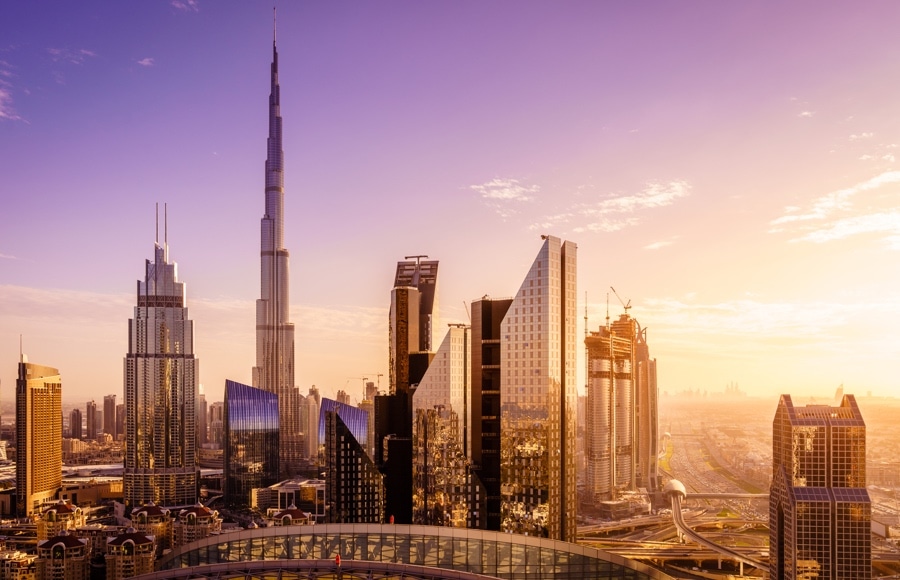 Sunshine hours in December
A day in December is quite long. It is still ideal clear weather to enjoy sunbathing at the beach, watersport, and other activities. That is why December is one of the best monthes to travel to Dubai.
On December 1st, the sun rises at 06:46 am and sets at 05:28 pm. On December 31th, the sun rises at 07:03 am and sets at 05:39 pm. If you want to see a great sunset, we recommend you to go on the top of the Burj Khalifa tower or to do the Dubai Dhow Cruise in the Marina or Dubai Creek.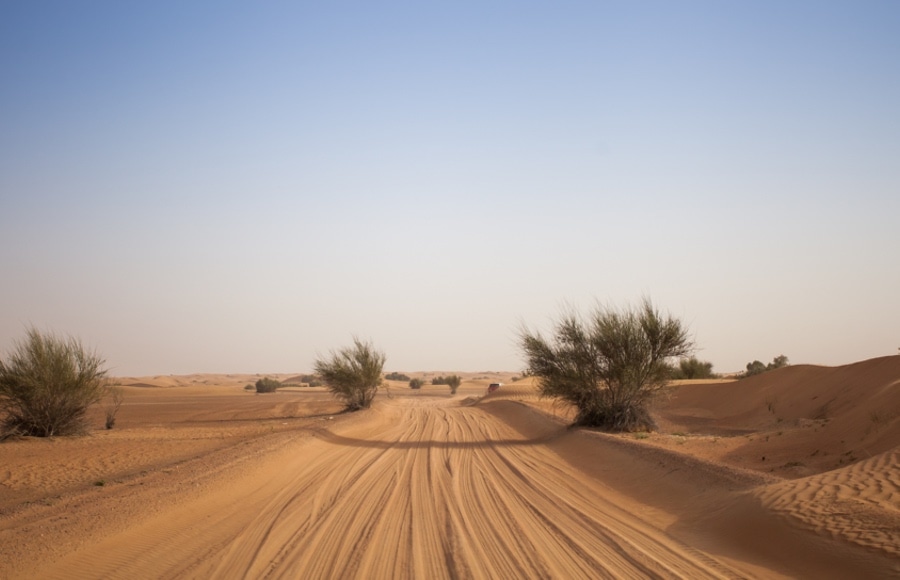 How to dress in December in Dubai?
Before packing your suitcase for Dubai you should know some rules that don't change depending on the time of the year. As you may know, the United Arab Emirates is a conservative country. Even on sunny days with a high temperature, you should dress modestly. You have to be respectful in public spaces.
The United Arab Emirates is a conservative country.
We recommend you to bring some tops with covered shoulders and without a cleavage. Concerning the skirts, it is more appropriate if they reach the knee. In the street women living in Dubai wear a long skirt, headscarves, long sleeves and trousers. However, they love to style these outfit with shoes and designer handbags.
These rules are relevant in the public spaces but not inside of the hotels and resorts. In these private spaces made for tourists, you can wear bathing suits, shorts, and a sleeveless top. We recommend you to pack your suitcase with summer clothes and some light jackets for the evenings. You should also bring a pair of jeans.
Other bits of advice: don't smoke or drink alcohol in a public place because it is not allowed.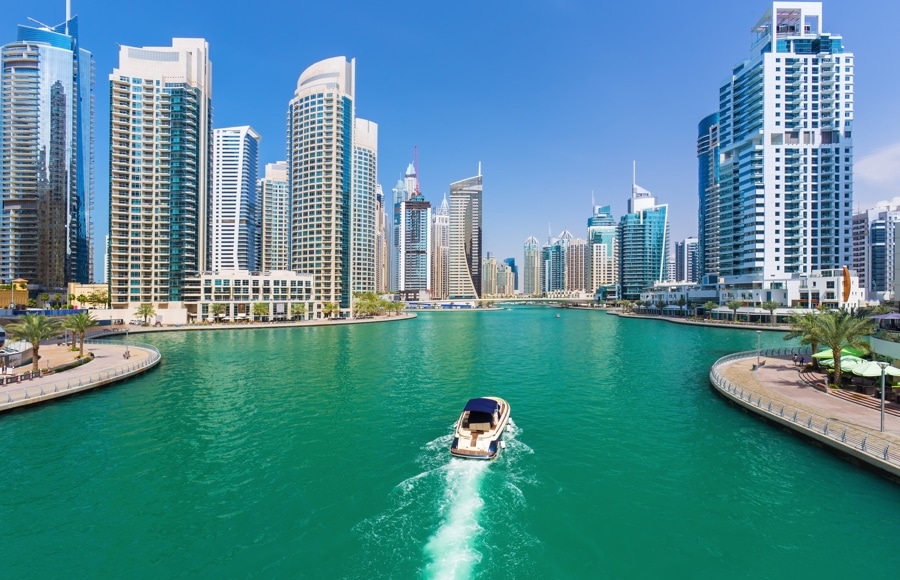 Air-conditioned areas in December
Because of its very hot climate, the city of Dubay has an air conditioning systems working even in winter. You can find climatized areas everywhere like in the subway, taxis, shops, bus stop, and all other buildings.
Attractions that open in winter
Because of the extremely hot summer, some attractions close their doors at this period. Winter is a really good time to visit Dubai because you can do a lot more of activities thanks to the good climate condition.
The Dubai Miracle Garden : this garden has 70 flower varieties and changes its theme every season. Its doors open the first week of November every year. Also, because of the high temperatures, often the Dubai Safari is not available during the summer season. It reopens to the public on December. Aventura - Mushrif Park: Aventura is a park in the nature area where you can try surfing, climbing and other activities. It opens on October 1st.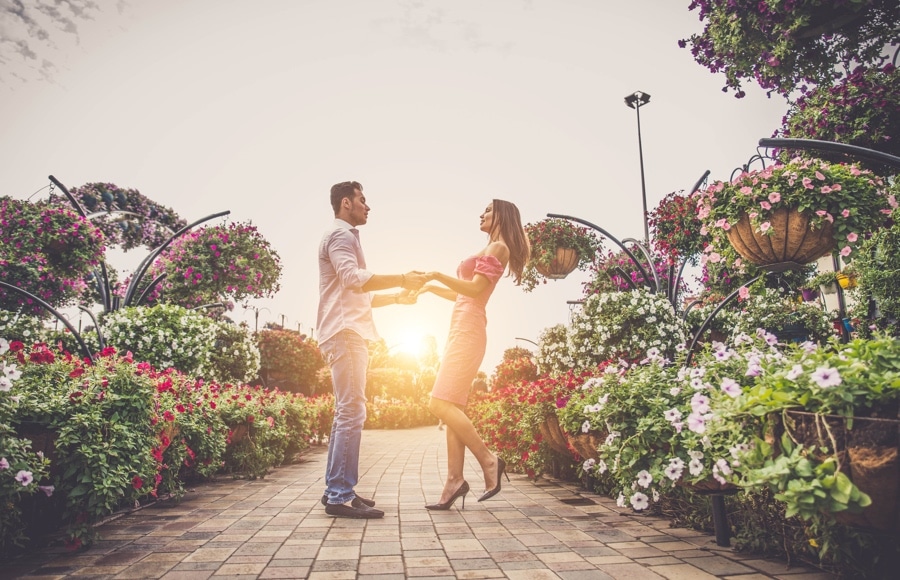 Dubai desert in December
December is a really good month with amazing weather to explore the Dubai Desert. There is no big temperature difference between the city and the Arabian Desert. However, it can be a bit colder at night.
We recommend you to wear loose summer clothes and to bring a light jacket. Because of the fine sand wearing loose clothes and sandals or thongs is the best choice. You can do safari and sandboarding in the afternoon and eat typical Arabian dishes in the evening.