What is the weather in January in Dubai?
January is the coldest month in Dubai. However, the city of Dubai located on the Persian Gulf in the United Arab Emirates has on average really high temperature and hot weather all year round. The best time to travel to the UAE and visit Dubai is from November to March. Due to the nice weather and comfortable temperature, January is one of the best months to visit Dubai.
Average temperature and weather in January
Temperatures in January 2019 - Dubai, United Arab Emirates

| Month | January | February | March | April | May | June |
| --- | --- | --- | --- | --- | --- | --- |
| Max°C | 25 | 37 | 31 | 36 | 41 | 44 |
| Min°C | 14 | 14 | 17 | 20 | 22 | 24 |
January is the coldest month in Dubai but it may feel like a warm summer day for you, depending on where you come from. Indeed, temperature varies between 14°C and 31°C. The highest temperature recorded in January was 31.6°C and the coolest was 1.5°C.
Dubai and the United Arab Emirates are close to the Northern desert belt and the Tropic of Cancer so the temperature stays warm even in January.
Winter months are very appreciated by tourists because of the soft and comfortable climate. However, Dubai and the UAE can also have precipitation, floods, and crazy wind. However, it is very rare. Indeed, temperatures during the summer days can be extremely hot. At the same time, in January humidity is very low and you can enjoy a lot of sunny days.
In January humidity is very low and you can enjoy a lot of sunny days.
For sure, it will be more comfortable to travel to the UAE in winter than in summer. You will be able to try more activities outside your hotel as well as enjoy sunbathing at the beach. Moreover, during April and summer months, there is a Shamal (northwesterly wind) in Dubai which causes sandstorm and reduces the visibility in the city of Dubai.
Water temperature in January
The Persian Gulf sea is one of the warmest seas in the world and the average water temperature in January is 23.4°C. The temperature of the sea varies between 21.3°C and 25.6°C.
Depending on where you come from you may find the water temperature a little bit fresh. However, most hotels have heated pool. Thus, don't forget to bring your bathing suit.
Another good thing is that at this time of the year, you don't need to worry about rainfall. Usually, precipitation is high in Dubai during the autumn months. In January, it often rains during the second half of the month with an average of 10 mm. In general, you will have a lot of sunny days. In January the sun shines for eight hours per day. Thus, you definitely can sunbath on the beach in January.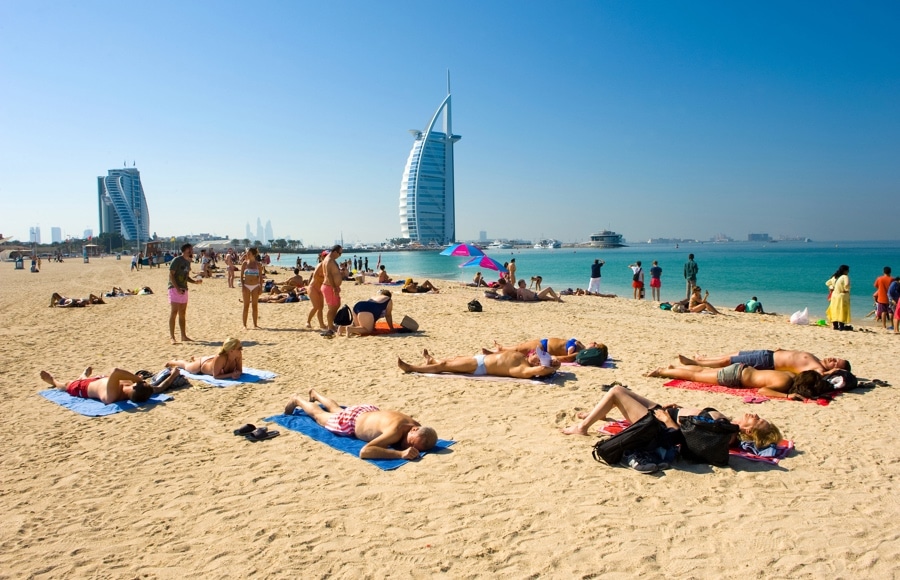 How to dress in January in Dubai?
Summer clothes are suitable all year round but don't forget that in the evening can be a bit colder than during the day. We recommend you to bring summer clothes but also a light jacket or a sweater as well as a pair of jeans.
However, there are some rules you have to considerate at every time of the year. If you want to travel to the United Arab Emirates and visit Dubai, note that it is a pretty conservative country.
It is better if you dress respectfully in public areas. It is not very appreciated when women show shoulders or cleavage. Moreover, skirts have to reach the knees. You will see the women in Dubai with their head covered, wearing a top with long sleeves and a long skirt or trouser (and some designer bags as well). However, no need to follow these rules while being in your hotel. Be free to wear bathing suit, short and sleeveless top when you are in your resort.
Dubai desert in January
Dubai is situated close to the Tropic of Cancer, so the Arabian Desert has high temperature and very low precipitation all year round. You will definitely enjoy the month of January compared to the summer months if you want to be more active and have a cooler temperature in the desert.
We recommend you to bring a sweat or a jacket if you go to the Arabian desert in the late afternoon or evening because the temperature can drop down pretty fast. Indeed, temperature goes down about two hours before the sunset. It can be a lot cooler than the city; about 7 to 10°C.
The desert sand is dry and it heats up and cools quickly. This is why the desert heats fast in the morning and cool down rapidly in the late afternoon and in the evening.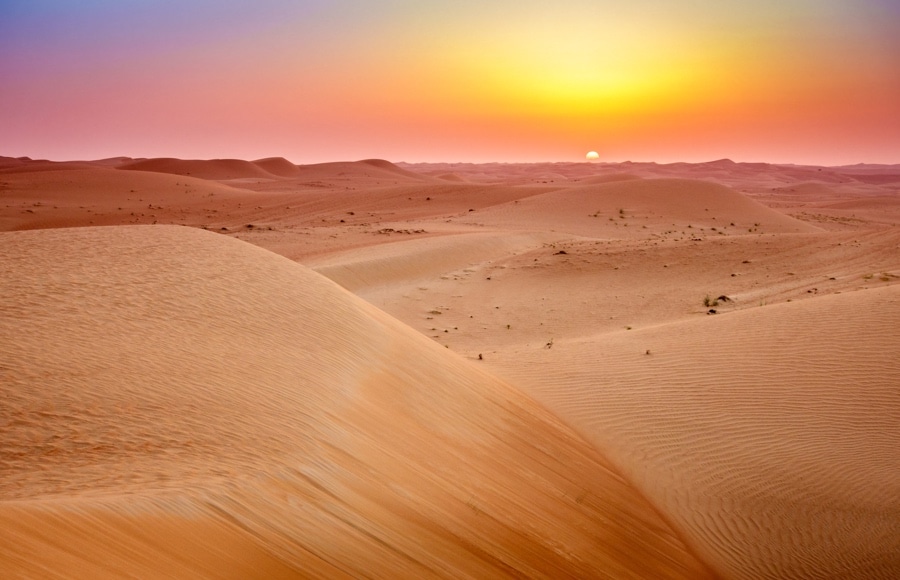 Dubai Shopping Festival
From November to March is the peak tourist season. Be prepared to see a lot of crowded places and many tourists in hotels. It's also because of the Dubai Shopping festival which lasts from December 26th to February 2th.
This event attracts shoppers from all over the world. You can have a discount of up to 75% on a lot of things like jewelry, electronics, and fashion items. Most of the shops in Dubai are participating in this event and the city expects more than 2 million festival visitors this year. Indeed, it is not just a crazy sales month, you will also enjoy firework shows, concerts, raffles, prizes, and other entertainment activities.