DUBAI SAFARI
Before Dubai became a prominent and world-famous metropolis, it's culture was mainly centred around the desert. Even today, Bedouin's culture takes an important place in Emirates heritage. Thats is why, it is absolutely essential to explore desert world when traveling there. And the best way to do it is without doubt a desert safari.
WHAT IS DUBAI DESERT SAFARI?
About Dubai Desert Safari
Dubai safari is a fascinating trip to the desert with a ride through the red sand dunes. You will discover the world of the desert, make henna tattoos, try a quad bike, sandboarding and many other things.
There are different offers and rates for desert safari in Dubai. You can choose morning desert safari, as well as afternoon one or overnight desert safari. Morning trips are more suitable for those who have a tight schedule. In the evening you can enjoy beautiful sunset in the desert, memorable night show and shisha ceremony. After the buffet dinner in the Arabian tent, you can sleep under the open sky and return to the city the next morning.
The adventure starts when your travel guide picks you up at the hotel about one hour before the beginning of activity. The arrival time of the driver will be indicated on the confirmation of your reservation. After that you will go to the desert in a comfortable Land Cruiser and start your incredible experience.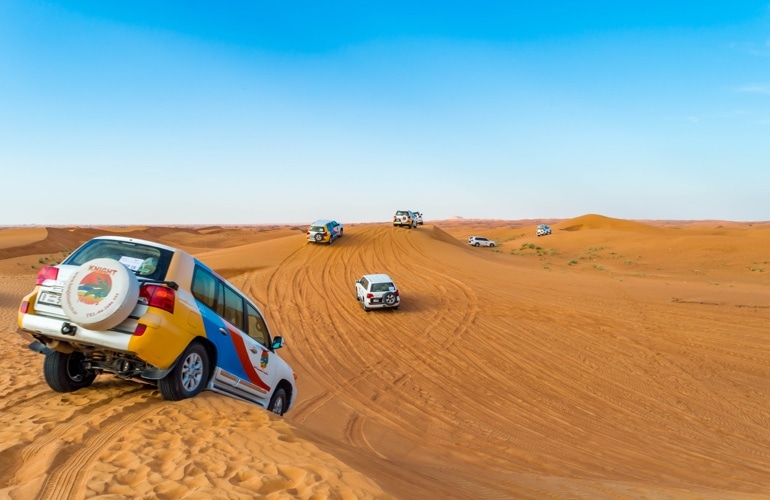 About Dubai Desert
The Dubai Desert is part of a nature reserve Dubai Desert Conservation Reserve. The main mission of this reserve is to preserve the biological diversity of the desert. To get to the territory of this unique place, you must book a tour from an accredited agency. During the visit, you can explore the authentic world of the desert and learn more about its inhabitants.
The desert in Dubai is called Rub-al-Khali and is the largest one in the Arabian Peninsula. Besides the United Arab Emirates, it occupies the territory of such states as Saudi Arabia, Oman, and Yemen.
Rub-al-Khali is translated as "empty quarter". This desert stretches 1000 kilometres long and 500 kilometres wide. Desert area is 50,000 km2 and some dunes are 250 meters high! For a long time, this desert was considered the most impassable and difficult to live. For several hundred years caravans carried precious incense, spices and fabrics from South Asia through this desert.
Rub-al-Khali is also considered the hottest desert on the planet. During the day, the red sand can warm up to 70 degrees. However, this dessert does not cease to attract thousands of tourists every year. WHY GO DUBAI DESERT SAFARI?
Dubai Desert
This tour is a great chance to explore one of the most famous deserts in the world. In the morning or in the evening there are amazing views in the Rub-al-Khali desert. Another unique thing there is the red fine sand. Its colour varies from bright orange to blood-red. This is due to the presence of feldspar, the rock-forming mineral in it. Try to take off your shoes and walk on the dunes barefoot - it is an incredible feeling!
Delicious Dinner
What could be better than to finish the day in a desert with a delicious meal? You can taste dishes from the international buffet served in the open air while enjoying a traditional show. Here you will find dishes for every taste - meat and vegetarian dishes, salads, vegetables, fruits, delicious desserts and, of course, aromatic Arabic coffee.
Entertainment
The key moment of the Desert Safari tour is the show program that you will watch during your dinner. Аdorable belly dancing will get you into the world of a thousand and one nights. You will also see the traditional dance called Tanoura, what is an unforgettable experience. Performer's glowing skirts rotating in the night look really spectacular.
Perfect city break
Finally, a Dubai Safari trip is a perfect city break tour. It will allow you to escape the stone jungle and to see the other side of the city. You will explore the real natural miracle - Rub-al-Khali, the hottest desert in the world. After the most beautiful sunset view, you may enjoy the starry sky without the lights of the big city. All the Desert tours take at least 5 hours, so take this into account when planning your journey.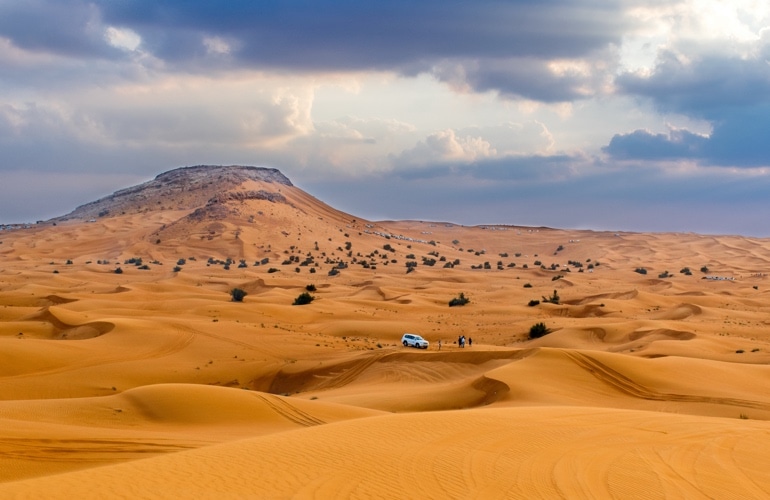 WHEN TO GO TO DUBAI DESERT SAFARI?
Best time to do Safari in Dubai
As you know, summer in the United Arab Emirates is very hot. The average daytime temperature in the desert is 47 °C (117 °F) in July and August and can reach up to 51°C (124 °F). Of course, it is very hot and the trip in such conditions can be difficult.
Therefore, the most comfortable months to do Dubai, in general, are November - April. At this time, the temperature in the afternoon is here from 20 to 30 degrees. Only in the evening, it can go down to 12 degrees, for this case, it is better to take a light jacket with you.
WHAT DOES DESERT SAFARI CONSISTS OF?
Pick up by 4x4 wheel Drive from any point in Dubai
Your guide will pick you up at a specified time directly from the hotel and take you to the desert, where adventure starts. After the trip is over, you will be brought back to your place of residence. Please, don't forget to indicate the name of your hotel in your booking request. Both transfers are included in the safari price.
Dune Bashing
This is a car driving on high sand dunes. Depending on the type of the package you choose, it can be a ride on dunes of medium height or driving on high dunes with gaining more speed. The second type of safari is called Extreme Safari, which is a real adventure. We recommend to book it if you are really sure that you like extreme sports and you don't have a motion sickness.
In general, doing dune bashing does not require a special permit or accreditation. No one forbids you to go to the desert in your car and ride over the hills. However, such an activity requires special skills and abilities, so drivers without special experience are not recommended to do it alone.
Important is not only the skill of the driver but also the preparation of the car. Before safari in the desert, you need to let some air out of the wheels so that they are not too pumped up. It is also important to keep a certain speed during the whole trip. Otherwise, you risk getting stuck and in this case, you will need some help to get out.
Camel Ride
One of the highlights of the trip is camel riding. These are large animals, the most adapted for life in the arid regions of the world - deserts, semi-deserts and steppes. Camels are very friendly creatures and riding them will give you a lot of pleasure and leave a plenty of memories. Before the camel ride, give your guide a camera and ask him to take pictures. So then you will have photos from the real caravan in the desert. Henna Painting
During this fascinating voyage to the desert, you can also try another element of Arabic culture. A henna painting will be offered to you in the desert camp. The price is already included in your package. A professional artist will create amazing drawings on your hand right after or before the dinner.
Henna is a plant used to create a special type of body art - mehndi. This art of painting the skin has been very common in the east for many centuries. Historically, this phenomenon came from India. Today it is just a beautiful decoration and a fashionable element of Arabic culture. It takes about 15 minutes to apply henna on the skin, then wait 1 hour until the pigment is absorbed. In general, such a pattern lasts from three days to 1 week. The important thing about henna is that it is absolutely non-toxic and hypoallergenic. Traditional shisha
There is a special zone in the camp where you can smoke a real authentic oriental shisha. It is also called hookah, ḡalyān or Hitboo. Shisha was invented in India and quickly spread throughout the Muslim world, from Indochina to Morocco. Today it is also very popular in Arab countries including the United Arab Emirates.
The best way to try hookah is sitting or laying on low soft sofas. In such a way you will relax and appreciate the taste of shisha. When you arrive at the camp, your guide will show you where shisha area is situated.
Traditional costumes
You can try on traditional costumes that are worn by men and women and are common in Emirati culture. For men, these are veils and long-sleeved robes. Most often they are white and the headdress (arafatka) is red and white. Thanks to the light colours, the clothes do not attract much sunlight and save from heat.
Women's traditional costume is black and called abaya. It completely covers the whole body, as well as the head and part of the face. Your guide will help you put on this traditional Muslim outfit and will take a few photos with. Sandboarding
Sandboarding is an original form of extreme sports, which is similar to snowboarding. The only thing is that sand dunes are used instead of snowy mountains. Another interesting thing about sandboarding is that even if you have absolutely no experience of riding on the board, you will be able to cope with it. The speed is not very high, and a soft sand is under your feet, so it is fairly safe. Be sure to try a ride at least once and experience this unusual sport. Sunset Photography
Without exaggeration, sunset in the desert is one of the most beautiful things to see on the planet. When the orange sun hides behind red dunes, it is a really amazing view. A marvellous play of light will allow you to take your best photos and leave wonderful memories for a lifetime.
Quad bike ride
Another extra attraction during a visit to the desert is riding a quad bike. After you arrive at the place, the driver will need to prepare the car for the upcoming safari. At this time (about 30 minutes) you will be able to ride a quad. This service is not included in the price of the safari, but you can pay it on the spot in cash. Complimentary soft drinks
In the camp, you will be provided by soft drinks, such as still/sparkling water, cola, schweppes and others. Cold bottles will be waiting for you in the fridges situated in tents. You can also order aromatic tea or have a cup of traditional Arabic coffee. There is no need to take water with you, as in the desert camp it will be in sufficient quantity.
Buffet Dinner and BBQ
One of the highlights of the program is a dinner in the desert. It is served in the form of a BBQ buffet in a tent, which is located in the camp just in the middle of the desert. Like real Bedouins, you can try Arabian couscous, grilled meat, kebabs, a variety of fresh vegetables, different garnishes and much more. There are also vegan and vegetarian dishes served at the buffet. Belly Dance
This Dance is a western name of the dance technique, common in the Middle East and in Arab countries. In Arabic, it is known as Rax Sharqi and the peculiarity of oriental belly dance is in its incredible plasticity.
It is considered that the belly dance originally was born in the Middle East, namely in Egypt. By the way, today the income from belly dancing to the coffers of Egypt are from 250 to 400 million dollars annually. This is one of the biggest income items of this country just after the Suez Canal, tourism, oil and cotton.
While you are enjoying your food, a professional dancer will perform a real Arab show for you. A unique dance with an ancient culture under the starry sky of the desert creates a truly authentic atmosphere and brings you to the world of 1001 nights.
Arabic Coffee (gahwa)
Arabic coffee is one of the best coffees in the world. It is grown at a height of 1000 to 2000 meters and there is a special and unique way of its preparation. Typically sugar is not added, although you can always ask for some sugar steaks in the camp. The Arabic coffee tastes the best with dates and other oriental sweets.
It is served with a dallah, which is a traditional Arabic coffee pot. Dallah looks like a tall teapot with a long narrow spout. Coffee is poured into small cups without handles, called finjān. This is the traditional tableware for drinking coffee, which historically Bedouins use in the desert. Tanoura Dancing
Tanoura is an Egyptian folkloric dance, which is very common in Islamic countries. This unusual dance has mystical roots. Its goal is to expand the consciousness, to enter a trance-like state to get closer to God. This is amazing, that after a long twirling around, performer stops instantly and doesn't show any signs of dizziness.
"Tanoura" in English means skirt, as this element of wardrobe is the most important part of the performance. Why - you will see during the bright and colourful Tanoura show in safari tour.
WHAT TO WEAR ON DUBAI DESERT SAFARI?
The most important advice about what to wear on a safari is to dress as comfortable as possible. Lightweight cotton clothing is perfect for the hot desert climate.
Do not forget also to take sunglasses, they not only protect from the sun, but also from the sand.
Better leave at the hotel expensive jewellery for not to lose them during one of the activities.
Also, it is better to put sandals rather than shoes as the sand will get into your shoes and cause you a discomfort.
Think about taking a light jacket with you to wear it after the sunset. By the way, no need to take bottles of water with you, as in the camp you will have unlimited soft drinks. WHAT IS THE PRICE OF DUBAI DESERT SAFARI?
Prices for a safari in Dubai
Safari is one of the most popular tourist activities in Dubai. Numerous companies offer you tours to the desert and their services are different, as well as prices on tours. In general, prices range from 230 AED to 1600 AED.
One of the most popular packages is a tour Red Dunes Safari: BBQ, Camel & Sandboarding. Its price is 230 AED which is equivalent to approximately 55 EUR. If you want an extreme tour, VIP service or private option, the price will be higher.
Extreme Red Dunes & VIP Food Service Tour - 350 AED (86 EUR)
Red Dunes & VIP Food Service Tour - 325 AED (78EUR)
Private Customization Option - 1570 AED (378 EUR)
There is also an option "Package tour" available which offers the best deals. Take it for 1,2 3 persons or a big company and save a significant amount of money. Check red dunes riding in a package with other tours and travel activities.
Check packages:
WHAT ELSE TO DO BEFORE OR AFTER SAFARI?
If you are wondering, what else to do and to see In Dubai and its surroundings, here is a list of top attractions we recommend you to try:
OTHER FREQUENTLY ASKED QUESTIONS
Can I pay by credit card?
The camp in which the evening entertainment program takes place and dinner is served is situated in the middle of the desert. This is a real camp, such as Bedouins build for themselves. For the convenience of tourists, it is equipped with everything necessary for comfortable rest. However, consider taking cash with you, since payment by card is not accepted at the campsite. Souvenirs, spices and small shishas are sold there. In case you want to buy something, it is better to have some spending money with you.
How many people can go to do a Desert Safari?
Desert tours are organized in small groups. in one car is not more than 6 people, as well as the driver. The car is convenient and spacious enough for all six to feel comfortable and to live the best experience.
If you want to travel in the desert in a big company and you are more than 6 people, it can also be organized. Every day a lot of cars are going to the desert, there is almost no limit on their quantity. So just book a tour for the number of people you need, read the details of your booking carefully and enjoy the trip.
If there is a vegetarian food?
Yes, аmong the appetizers, main dishes and desserts there are several vegetarian options. There are also dishes that are suitable for children. In general, the international buffet dinner menu is quite diverse and there are dishes for every taste.
Can I do Desert Safari if I am pregnant?
Desert Safari is a fast ride over the high dunes. In fact, this is an extreme sport that is not suitable for everyone. Thus, it is not recommended for pregnant women, children and people who have a motion sickness.