Dubai speedboat tour
Sightseeing speedboat tour from Marina Dubai is one of the best activities in Dubai. During 2 hours you will make a sightseeing tour among the Dubai coast and see the most popular city attractions from the water.
WHAT IS DUBAI SPEEDBOAT TOUR
About the tour
Speedboat tour is a thrilling sea journey in the Persian Gulf on Rigid Inflatable Passenger boats (RIB). This is a special type of lightweight but very high-performance boat.
Due to its characteristics, it is one of the safest boats for a water city tour and it can reach a really high speed.
While driving you will enjoy wonderful sea views and get incredible emotions from high-speed drive. You will also see the main sights of Dubai from the deck of your boat, make beautiful photos and get unforgettable memories. All that together will provide you an unforgettable experience.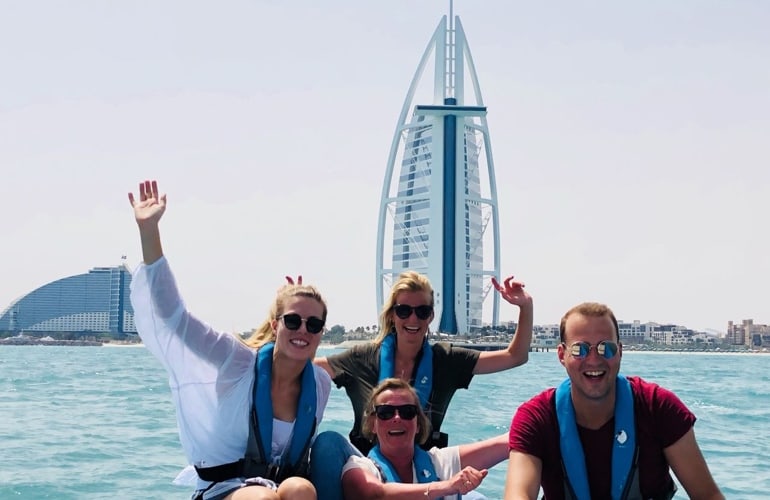 This adventure starts from Marina Dubai. The meeting point is located near la Verda Hotel, behind Radisson Blue Hotel.
During the trip, the boat will accelerate to speeds of up to 30 knots, which is equivalent to approximately 55 km / h. You will ride along the beautiful coastline of Dubai, making stops near some landmarks. The guide will tell you interesting information about the iconic sights of Dubai which you pass along the way. Whether you are the first time in Dubai or you travel to this city pretty often, you will enjoy the view of the city from the unusual perspective.
The difference between a yacht cruise and a high-speed boat cruise is that here you will get not only a sightseeing city tour but also a real water attraction. You will see extremely beautiful views and definitely have fun.
WHEN TO GO FOR THE DUBAI SPEEDBOAT TOUR?
In general, best time to travel to Dubai is between November and April. At this time, there is the most comfortable temperature and humidity level in the city.
Tours are organized daily all year round. You can choose the start time from 10 am, the last boat leaves at 5 pm.
If you are travelling to Dubai in the summer, it is better to take the first cruise early in the morning or one of the last one in the afternoon. This will help you avoid extreme heat and enjoy your trip more.
WHAT WILL I SEE DURING THE SPEEDBOAT TOUR?
The main attractions of Dubai
A boat trip is not only an exciting adventure but also an opportunity to discover Dubai from the water. It is at the same time an aqua adventure and a cruise to discover the best sights of the city.
So, the sightseeing speedboat tour includes visiting of the following attractions: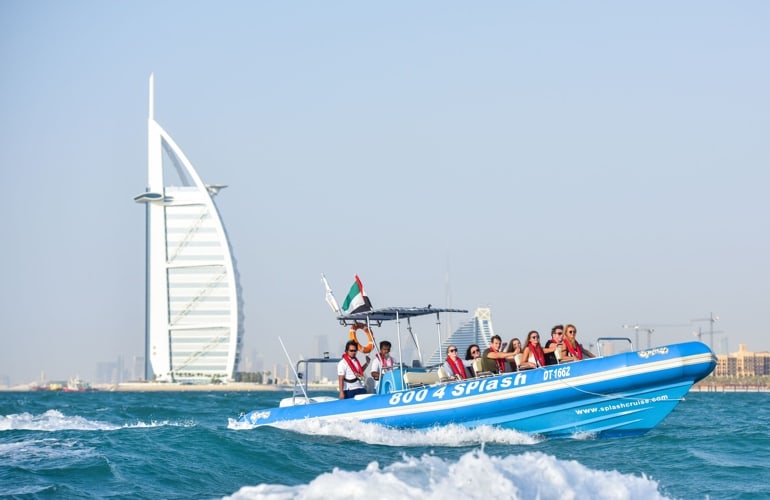 HOW MUCH DOES IT COST THE DUBAI SPEEDBOAT TOUR?
Prices
Several major companies offer their speedboat tours from the Marina Dubai. Their services are slightly different, as well as prices of the journey. There are deals from 116 AED (28 EUR) and prices can reach 1000 AED (240 EUR). Everything depends on your wishes and preferences. Аs for the duration of the trip, you can choose a 45, 75 or 90-minute tour.
Here are some popular boat city tours (click on to check availability and reviews):
You may also check Dubai from Cruise Yacht city tours: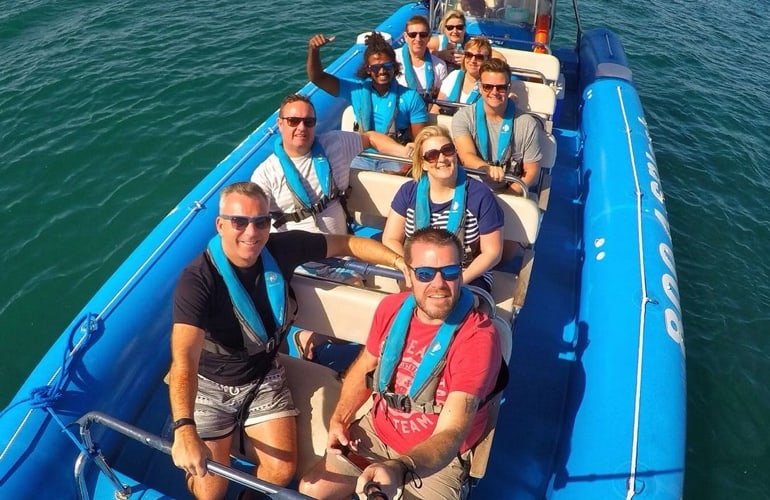 WHAT TO WEAR FOR THE SPEEDBOAT TOUR?
Best clothes for the speedboat tour
First of all, you need to dress comfortably. Cotton is warm and comfortable, but once it gets wet you will be not very comfortable and cool. So, it is better to give preference to synthetic cloth, which will quickly dry. The fleece jacket will be just perfect.
If you are travelling to Dubai in the winter and have chosen the afternoon tour, then you may be a little bit cold when you return, especially if you get wet. In this case, take a light jacket with you. However, if you go on a cruise during the day, you will definitely not need warm clothes. Women should not wear skirts and dresses, as there will be a strong wind during the cruise.
WHAT TO CHOOSE YACHT CRUISE OR SPEEDBOAT TOUR IN DUBAI?
The choice of the tour
A boat trip is one of the most popular activities in Dubai. However, although the itineraries of these tours are almost the same, these are fundamentally different tours. The main difference is that the yacht cruise is more suitable for a relaxing and calm rest. You will be served a soft drink and offered to enjoy views of the city from the open deck. Other services such as snacks, barbecues or use of onboard facilities including kitchen with BBQ grill will be offered.
Concerning the speedboat ride, it is a real adventurous and thrilling experience. You will reach speeds up to 50 km / h and most likely get wet, but definitely have a lot of fun. You will also make numerous stops to take photos. Moreover, sometimes the driver will ride slowly so you can enjoy the scenery.
So, if you want to get emotions and unforgettable impressions, choose the speedboat ride. For travellers who prefer a more relaxing atmosphere, book a cruise on one of the numerous luxury yachts in Dubai Marina.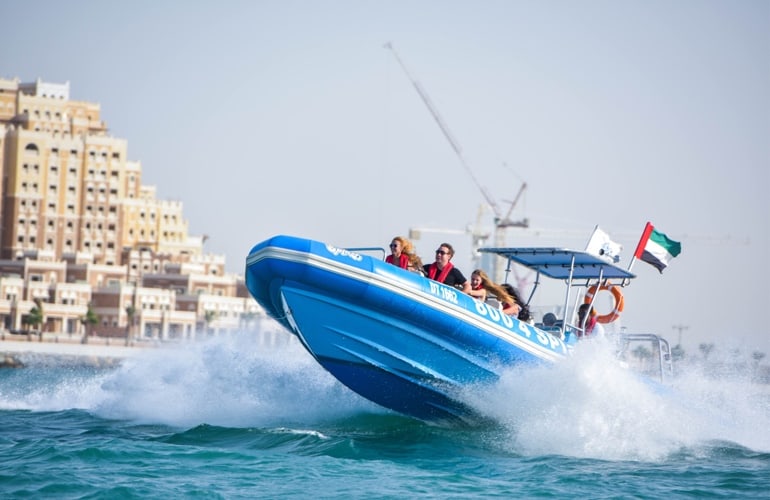 INFORMATION & ADVICES
6 useful tips
To get only the best memories and positive emotions, we recommend to follow some tips:
1. Book in advance. Speedboat sightseeing tour is one of the most popular activities in Dubai, so it can be often fully booked. Сheck availability and reviews.


2. Come to the meeting place 15 minutes in advance before the departure of the boat.


3. People suffering from seasickness should be careful. It is better for them to take a seat behind the boat, as there is less pitching. Keep in mind that the ride is really fast enough.


4. During the ride, hold the camera or phone firmly, and watch other personal belongings. Because of the strong wind, you can drop them into the water.


5. Dress as comfortable as possible. For ladies, it is better to give preference to pants or shorts.


6. Be sure to take a camera with you. You will have the opportunity to make your best travel pictures in front of the most famous sights of Dubai from an unusual angle.