Dubai Dhow Cruise
Everything you need to know about the Dubai Creek Dhow Cruise: when to go there, what you will eat during the dinner onboard and see during the entertainment show, prices on tours and many other useful information.
WHAT IS DUBAI DHOW CRUISE & DINNER TOUR?
Dubai Dhow Cruise is a tour on a wooden boat along the Dubai Creek. The ship is called "Dhow", what is a name for traditional wooden boats, used for centuries in the Red Sea and the Indian Ocean. These lightweight ships are made from teak wood, which grows in India, and built according to ancient technologies.
The duration of the Dhow tour is two hours. During this time you will get a great cruise experience on the real Arab wooden boat. You will see evening Dubai from the water, as well as enjoy the international buffet dinner and watch an entertainment program. This is a journey along the Dubai Creek, which is a natural marine creek, extending from the Persian Gulf into the depth of the emirate of Dubai.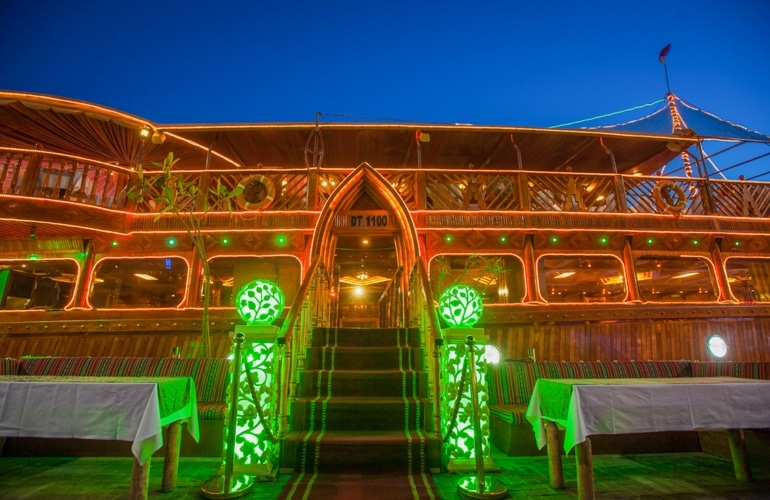 WHY GO ON DUBAI CREEK DHOW CRUISE?
Sightseeing
A Dhow Cruise is one of the best ways to discover Dubai and enjoy its main attractions in the evening light. A traditional Arabian-style ship will bring you along Deira and Bur Dubai areas. During the tour will pass by such iconic places as Gold and Spice Souks, Chamber of Commerce and Industry Building, Grand Mosque, Sheraton Dubai Creek, the Old Boat Fort, and Rolex Twin Towers. This is the best way to enjoy a city tour from the comfort of your table and explore modern Dubai from the water.
Delicious dinner
During the Dhow Dinner Cruise, you can enjoy a delicious buffet dinner under the night sky of Dubai. A traditional wooden vessel is a real five-star floating restaurant. It provides a first class service and a 3-course international buffet dinner with 5-star standards and excellent food. There are European and Arabian dishes, vegetarian cuisine and also foods suitable for children.
Entertainment
A wonderful performance in the best Arabic traditions will entertain you within 2 hours of the Dhow Cruise tour. Enjoy multiple forms of entertainment such as the traditional dance, a magic show, and others. At the same time, the guide of the evening will highlight the sights that you pass by on your boat. Indeed, this is a great experience to try in Dubai.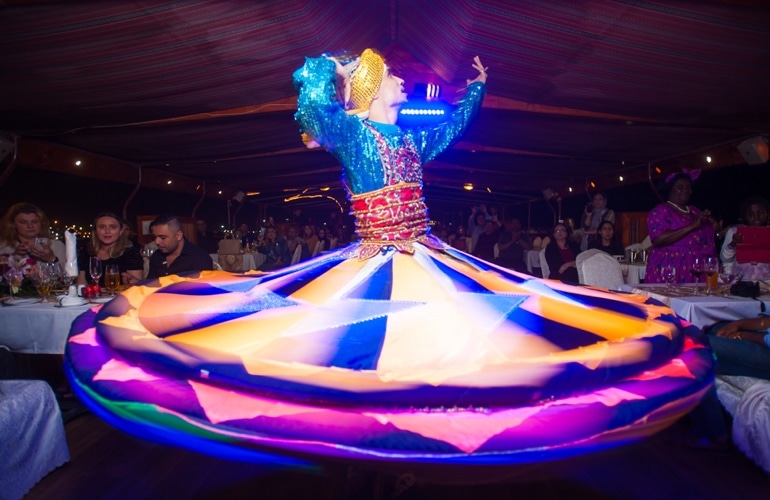 WHEN TO GO ON DUBAI CREEK DHOW CRUISE?
Traditional Dhow vessel is air-conditioned and provides comfortable temperature all over the year. The upper deck is open and offers you the best views of night Dubai. Tables are located right next to the side of the ship so that you can enjoy the coolness of the water and a light sea breeze. However, in summer it may be a bit too hot to stay outdoors, so you need to choose a terrace on the middle deck for the better experience.
Thus, the best period for a cruising tour will be from November to April. If you want to experience the dhow cruise in the hot season, just choose the middle deck and a table near the huge panoramic windows.
Сruises start daily at 9 pm and last two hours. At this time in Dubai, there is usually comfortable weather with a temperature of 25-26 degrees.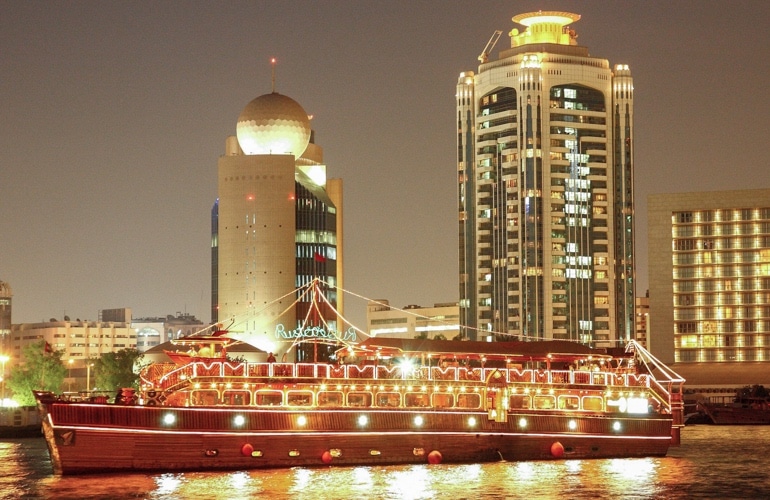 WHAT THE DINNER DURING THE DHOW CRUISE CONSISTS OF?
International Buffet Dinner
During the cruise, a staff of the floating restaurant will offer you a delicious dinner in the form of a buffet. All food is prepared according to the highest international quality standards by Carlton Palace Hotel. The buffet offers a wide array of items from Asian, European and Arabic cuisines. A rather extensive assortment of the dinner includes ten salads, twelve main course and seven desserts which will suit the most sophisticated gourmets.
This is an international buffet dinner, but there is a significant influence of Arabic cuisine on it. It makes food more authentic and unique. For example, you will be offered to add lemon juice to your plate instead of sauce as you are used to. Try also a mushroom cream soup from local Chief, eat some Tabouli instead of the rice and dress your salad with a yogurt, as locals do. Indeed, you will live a wonderful food experience during this cruise.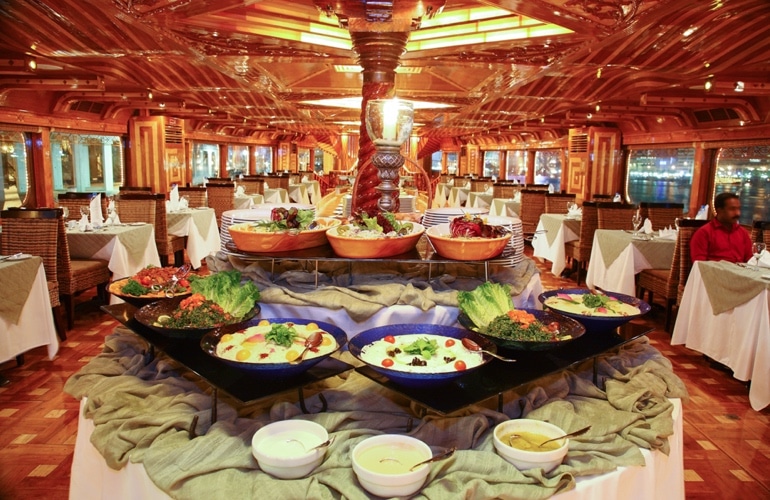 If the Dubai Creek Dhow Cruise dinner is vegetarian-friendly?
Among the numerous options to choose, there are some items that vegetarians and vegans will enjoy to try during the dinner. For example, traditional Arabic hummus, plenty of fresh vegetables, onions, delicious olives, and other food. There are also veggie-friendly dishes at the hot buffet too. We recommend you to try a Chef's Pasta with mushrooms and creamy sauce, wok vegetables, baked potatoes with aromatic herbs as well as various and delicious garnishes.
What to drink during the Dhow cruising tour?
Before the dinner, all guests are served with a welcome drink - a traditional Arabic coffee at the beginning of the cruise. Then, during the whole voyage, you may have unlimited soft drinks, such as juices, coca cola, schweppes, and water. You may also order a tea or coffee if you want.
Alcoholic beverages are not included in the dinner, but you are welcome to order them for an additional price. The price for a glass of wine will be 45 AED (10 EUR).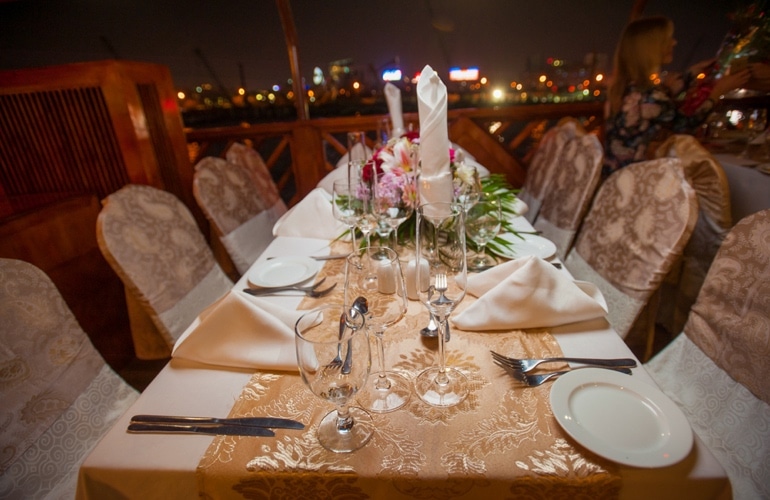 FULL DINNER MENU
Which food is served during the Dhow Cruise?
Welcome drink
Traditional Arabic Coffee – Served with Dates
Cold Buffet
Cajun Roasted Prawns Coleslaw With Fresh Mint and Coriander
Greek Salad
Salad Nicoise
Chicken Tikka Salad
Hummus
Jarjier
Fattoush
Moutabal
Tabouli
Seasonal mixed green leaves from the garden, tomato, cucumber, carrot, celery
Pesto-Yogurt dressing, blue cheese-ranch, Caesar dressing
Raspberry vinaigrette, Herbs vinaigrette, extra virgin Olive Oil
Assorted Olives, Assorted Arabic Pickles, Bacon Bites, Olive Oil and thyme roasted Croutons
Bread Rolls, Arabic Bread and Butter
Hot Buffet
Mushroom cream soup
Rosemary Roasted Chicken with Mushroom Glaze
Shish Tawouk / Lamb Kofta
Hammour with Bell Pepper and Tomato Coulis
Chef's Pasta (Mushroom, Peas, Tomato and Cream)
Braised Lamb with Garlic and Lemon Gremolata
Wok Tossed Vegetables
Fish Amritsari
BatataHarra / Paneer (Cottage Cheese) Makhani
Traditional Beef Lasagna
Steamed Rice
Desserts
Whole Fruit Basket
Fruit Salad
Assorted Mini French Pastries
Apple Delight
Black Forest Cake
Um Ali (Hot)
Mini Mouses
Panna Cotta
Assorted Arabic Sweets
Unlimited soft drinks
WHAT WILL BE THE ENTERTAINMENT DURING THE DHOW CRUISE & DINNER?
The show during the Dhow cruising tour is one of the best traditional performances that you can see in Dubai. While you are enjoying your food from the international buffet dinner, an amazing show will be performed. The program includes the most authentic Arab traditions and charismatic artists. In addition, the show provides interactivity with the audience. You can try on a giant glowing skirt of Tanura dancer and participate in the ceremony of Al Yowla dance.
Traditional Arabic Dance
Al Yowla is a UAE traditional dance, which is performed by men dressed in typical Arabian costumes. It involves simple movements with a rifle dummy made entirely of wood and metal plating. In the end, the artists propose to those who want to dance on stage with them.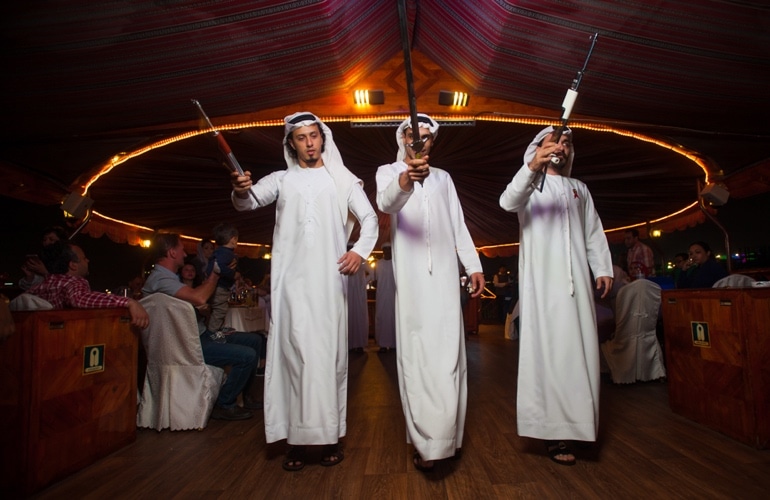 Tanoura dance
Tanoura is an Egyptian folkloric dance, which is very common in Islamic countries. This unusual dance has mystical roots. Its goal is to expand the consciousness, to enter a trance-like state to get closer to God. This is amazing, that after a long twirling around performer stops instantly and shows no signs of dizziness.
"Tanoura" in English means skirt, as this element of wardrobe is the most important part of the performance. Why - you will see during the bright and colorful Tanoura show on Dhow Cruise. By the way, here you will also have a unique opportunity to try on the role of the Arabic dancer.
Live singer
Оne of the key points of the program is a vocal performance. Enjoy the best songs from various time periods and in different languages. A live singer with a background music create rally charming and wonderful atmosphere and with background music, creating a charming and unique atmosphere.
Henna
During this fascinating voyage, you can also try another element of Arabic culture. An optional henna painting will be proposed onboard for an additional price. A professional artist will create amazing drawings on your hand right during the cruise.
Henna is a plant used to create a special type of body art - mehndi.
This art of painting the skin has been very common in the east for many centuries. Historically, this phenomenon came from India. Today it is just a beautiful decoration and a fashionable element of Arabic culture. Experience it before or after your buffet dinner onboard. It takes about 15 minutes to apply henna on the skin, then wait 1 hour until the pigment is absorbed. In general, such a pattern lasts from three days to 1 week. The important thing about henna is that it is absolutely non-toxic and hypoallergenic.
The cost of such work on average is 50 AED (12 EUR).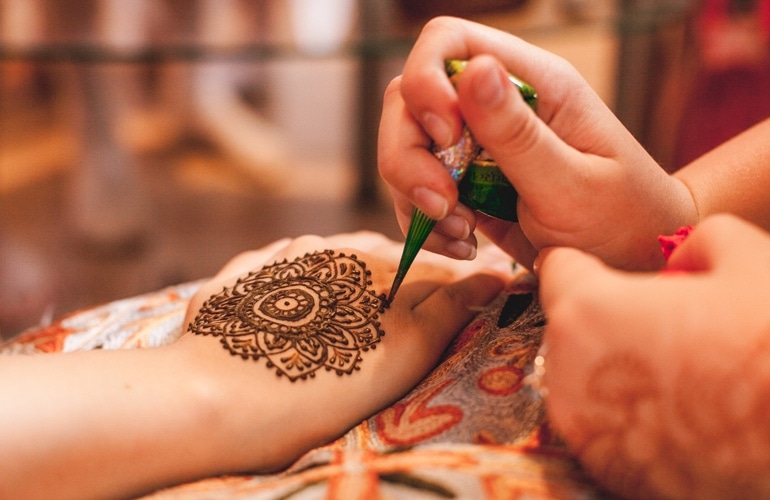 HOW MUCH COSTS A DUBAI CREEK DHOW CRUISE?
Tickets & Prices
The price of a Dhow Cruise depends on the season and varies from 200 AED to 250 AED for different tours. When we tested this activity for you in November (one of the most popular months to visit Dubai), the price was 235 AED (56 EUR).
Here are the most popular dhow cruises in Dubai:
This price includes:
Cruise that lasts at least two hours
Dinner in the form of an international buffet
Soft drinks
Entertainment
The price doesn't include:
Alcoholic beverages
Henna painting
Photos taken by a professional photographer
Pick-up and drop off (unless option booked)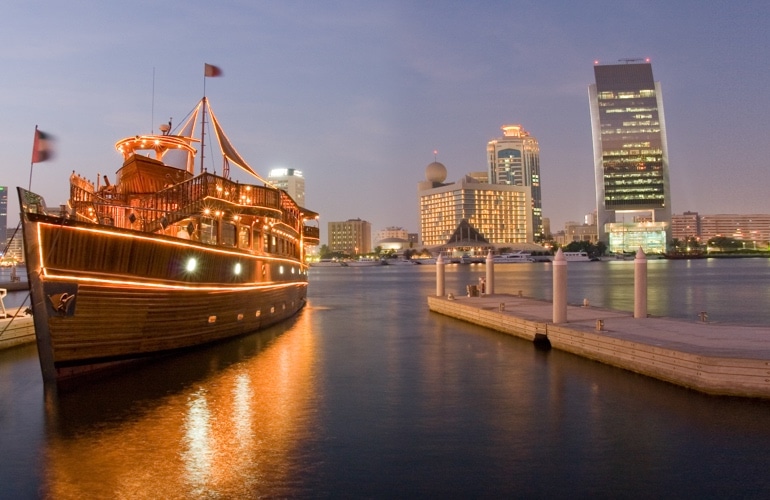 WHAT IS A DRESSCODE FOR DUBAI DHOW CRUISE?
For Dhow Cruise tours it is recommended to wear elegant clothes to match the festive atmosphere that prevails there. There are no strict rules, but smart-casual dress code is recommended. Men should not wear shorts, sandals and sportswear/shoes. Сocktail and half-evening dresses will be the perfect choice for ladies. By the way, when you get on board, professional photographer will suggest you take a photo, that you can then take with you just after the tour.
WHAT TO DO IN DEIRA?
Historically Deira was a trade part of the city. Nowadays this area is not commercial center of Dubai anymore. However, Deira is famous for its unique atmosphere, small port and, of course, Arabic markets.
If you are coming to Deira from the southern part of Dubai, Bur Dubai, you can hop on one of the small wooden boats called "abra". This journey will cost you around 1 AED (0,25$) and take around 10 minutes. Riding along the Dubai Creek you can imagine what Dubai looked like hundred years ago, when merchant ships rode here with might and main.
Today, there is still a spirit of trade in Deira, as the most famous souks of the Dubai are situated here. You can visit them during the day, just before your cruising tour.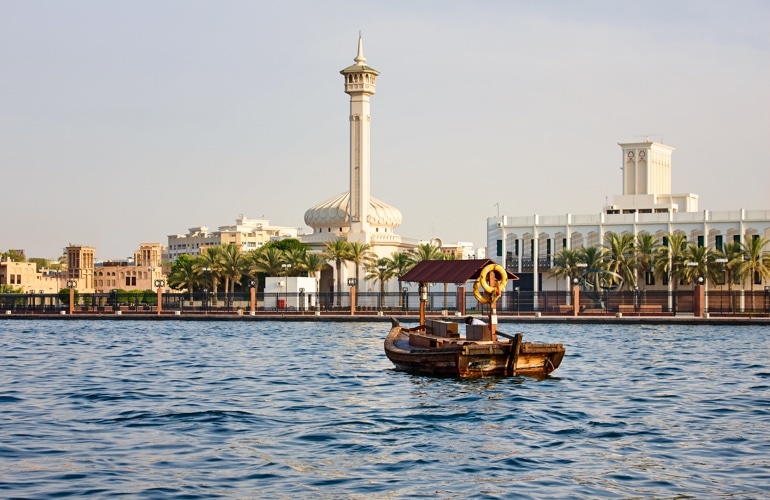 Gold Souk
Gold Souk is the largest and most visited souk in Dubai. If you plan to buy jewelry, or just want to experience the atmosphere of the real Arabic market, you should definitely visit this marketplace. There are so many jewels here that, if you put them all together, you'll get around 10 tons of gold.
Indeed, here you can find jewelry for every taste and budget. Do not hesitate to bargain with the sellers, as the final price may be significantly lower than the one indicated on the price tag. Also, before buying items you like, make a tour around and take a look at the nearest shops. Often the same product is sold in different stores, and the price may vary.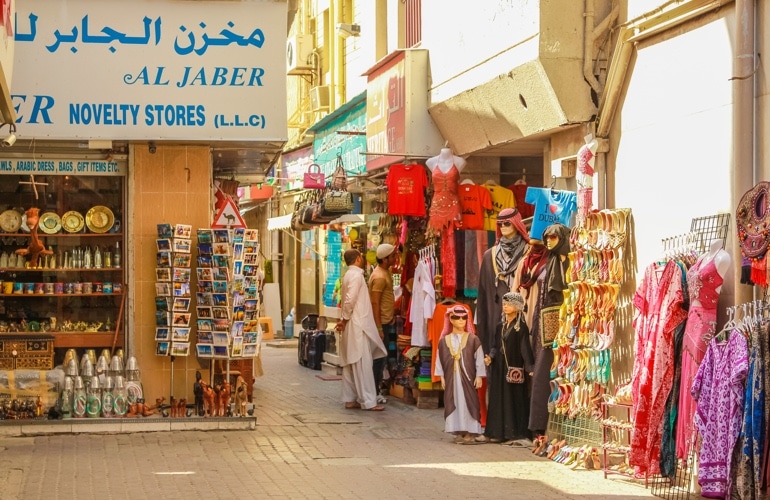 By the way, another reason to visit Gold Souk is to see the biggest gold ring in the world. It's called Najmat Taiba (Star of Taiba) and it costs around 3$ million. The behemoth weighs 64 kilograms, and is decorated with more than 5 kg of diamonds and other precious stones. 55 workers were creating this ring during 45 days.
Today you can find the ring at Kanz Jewels L.L.C. boutique, situated in the center of Deira Gold Souq, Sheikh Zayed Road, 4th Interchange.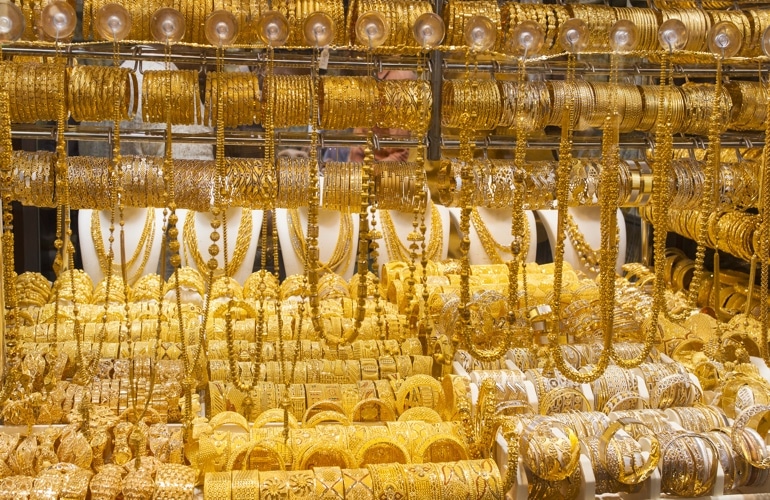 Gold Souk is located near Al Ras metro station, it is opened every day from 10am to 10pm. On Fridays opening hours may vary, as this is a national holidays in UAE. It is perfectly situated to visit before your cruising tour. There are also guided tours organized to Golden Souk.
Spice Souk
This is a traditional market in Deira where you can buy different kinds of spices, cinnamon, lemon, saffron, rose, chili, powders, herb, incense, nuts, dried fruits and so on. In addition, various tea, oils, perfumes, textiles and shisha are sold here. In Spice Souk you can also buy souvenirs at a cheaper price than in other areas of Dubai.
As in every Arabic market, don't hesitate to bargain and do not buy things right away in the first shop you find. Most likely, the sellers will treat you with sweets and offer to try the products of their shop. You are free either refuse or accept the offer. Even if you try the candies that were presented to you, it does not commit you to make a purchase.
Remember that souks are situated outdoors and air conditioners only work in stores. Even in winter it can be hot there, so don't forget take a bottle of water with you.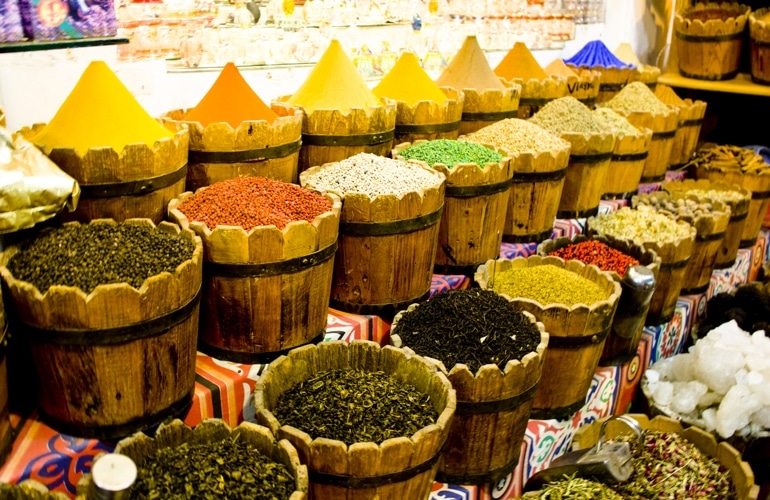 OTHER TOURS & ACTIVITIES IN DUBAI
Desert Safari
Discover the wonderful world of the desert, traveling to Rub-al-Khali, the hottest desert in the world. Rub-al-Khali is translated as "empty quarter". This desert stretches 1000 kilometres long and 500 kilometres wide. Its area is 50,000 km2 and some dunes are 250 meters high! For a long time, this dessert was considered the most impassable and difficult to live. For several hundred years caravans carried precious incense, spices and fabrics from South Asia through this desert.
The highlight of the Desert Safari tour is a dune bashing. This is an extreme car driving on high sand dunes. This trip includes also a camel ride, delicious dinner, entertainment show, henna painting, traditional shisha smoking and pickup to/from the hotel.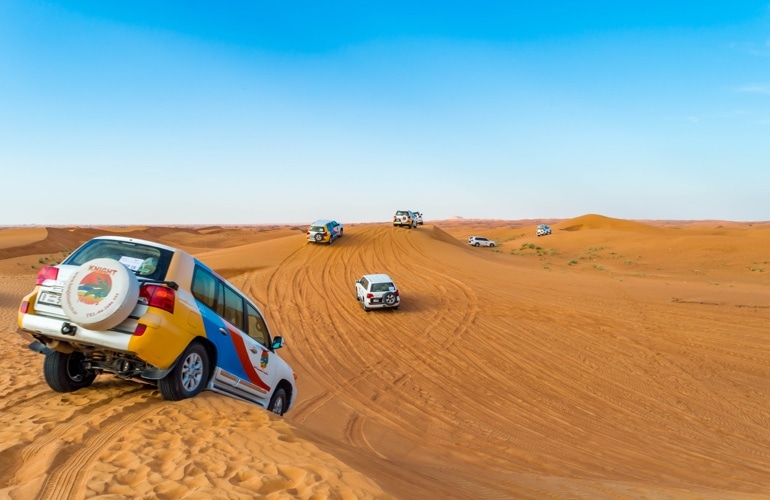 Burj Khalifa Visit
Burj Khalifa is the highest structure in the world, a skyscraper with a height of 828 meters situated in Dubai Downtown. Before 2010 the tower was called "Burj Dubai" (Burj from Arabian means "tower").
An outdoor observation deck, named At the Top, has opened on 5 January 2010 on the 124th floor. Later, on October 2015 Burj Khalifa opened 148th floor SKY level at 555 m, which today remains the highest viewing platform after the Shanghai Tower's observation deck. To the both viewing platforms small-group tours are organized every 15 min.
Opening hours of At The Top are: between 8:00 am and 3:00 pm and between 3:30 pm and 6:00 pm. For sure, the best time to visit the Burj Khalifa is around 4pm. In such a way you can firstly have an amazing view of Dubai and can take photos in daylight. Than, after waiting for a little, you can enjoy the beautiful sunset from the highest building in the world.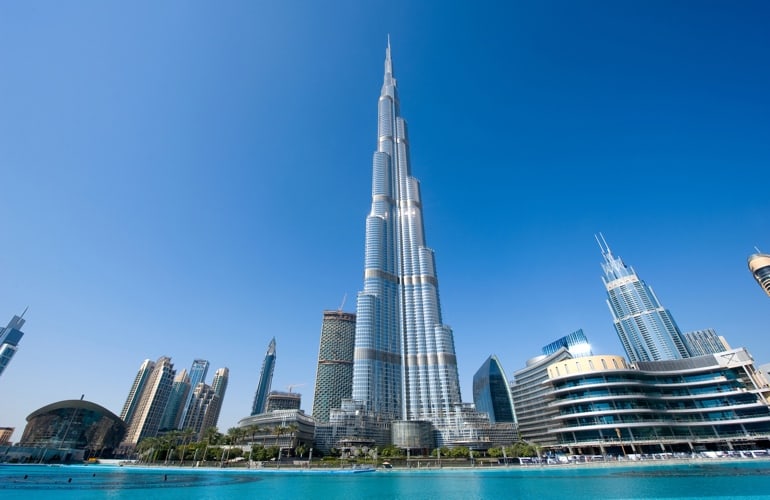 Speedboat tour
Speedboat tour is a thrilling sea journey in the Persian Gulf on Rigid Inflatable Passenger boats (RIB). This is a special type of lightweight but very high-performance boat. Due to its characteristics, it is one of the safest boats for a water city tour and it can reach a really high speed.
While driving you will enjoy wonderful sea views and get incredible emotions from high-speed drive. You will also see the main sights of Dubai from the deck of your boat, make beautiful photos and get unforgettable memories.
This adventure starts from Marina Dubai. In general, best time to travel to Dubai is between November and April. At this time, there is the most comfortable temperature and humidity level in the city. Tours are organized daily all year round. You can choose the start time from 10 am, the last boat leaves at 5 pm.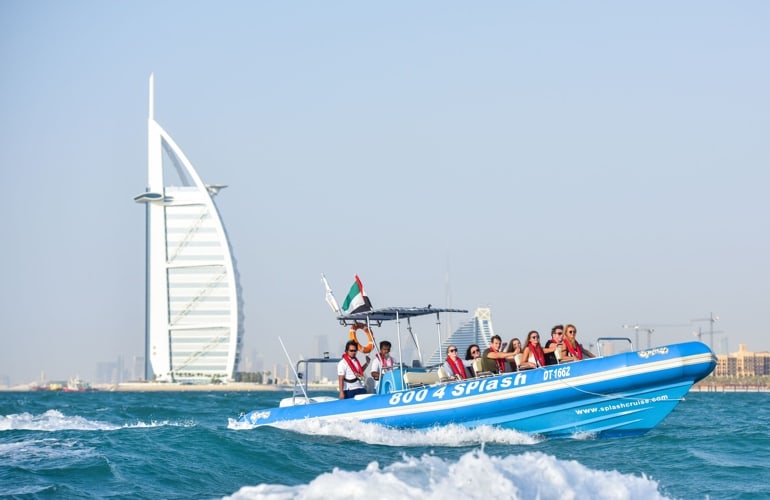 Dubai is the city where everything is made for tourists. Whether you travel there for one day or are planning to stay for a long time, you will find a lot of interesting things to do. Check out all the best experiences in Dubai and create your amazing travel memories.
Please, book your tour in advance to be sure there are some places available.